21st – 26th June 2015: UNUK hosted the 7th annual Tri Campus Games, an annual sporting events that aims to foster a better relationship between Nottingham students in all three campuses (the TCG motto is Friendship Through Sports). UNMC sponsored a contingent of 59 student athletes – accompanied by Director of Student Experience Mavis Tsang, Sports Complex Officer Maheswaran Ganesan and Sports Complex Admin Assistant Intan Liyana Idris – to compete in the various sports involved: football; badminton; basketball; tennis; ultimate frisbee; volleyball; squash; table tennis. Travel expenses, food and accommodation (at Jubilee Campus) for all participating athletes were borne by the university.
Let's break the ice: athletes from all 3 campuses get to know each other better before the Games begin
Having come in second to the UK Campus for the past few years, the Malaysian contingent were jubilant and ecstatic when UNMC was announced as the overall champion during the closing ceremony at Lincoln Hall, University Park Campus. Here's how basketball player Ong Jie Sze, a second year Civil Engineering student, described the experience:
The atmosphere was out of this world. If I could, I'd relive it over and over again. As they had obviously announced the winners for each sport first, some of us could guess we stood a chance of winning the title as we had grasped many gold medals, but we could never be really certain. As soon as the announcer mentioned Malaysia, we all stood up cheering and jumping for joy.
UNMC's final tally of 14 medals were distributed as following:
8 GOLDS: Men's Football;Women's Tennis; Men's Tennis; Men's Volleyball; Women's Squash; Men's Squash; Men's Badminton; Women's Table Tennis.
4 SILVERS: Men's Basketball; Women's Basketball; Men's Table Tennis; Women's Badminton.
2 BRONZES: Women's Football; Ultimate Frisbee.
Economics student and basketball player Germán Olivares Merlos also won the Male Spirit of the Games award. He described the double victory as "an unbeatable ending for an unbeatable week". Germán also went out of his way to document the games, by not only uploading multiple photos on his blog, but also by producing a video summary of the entire event.
Like many of the other participants, he thoroughly enjoyed not only the sporting events, but the whole packaged experience of travelling to the UK, experiencing the heritage architecture of the UK Campus and neighboring York, getting to socialise with athletes from UNUK and UNNC via the 'Getting To Know You' ice-breaking games before the matches, attending the opening ceremony via the iconic London bright red double-decker buses, etc.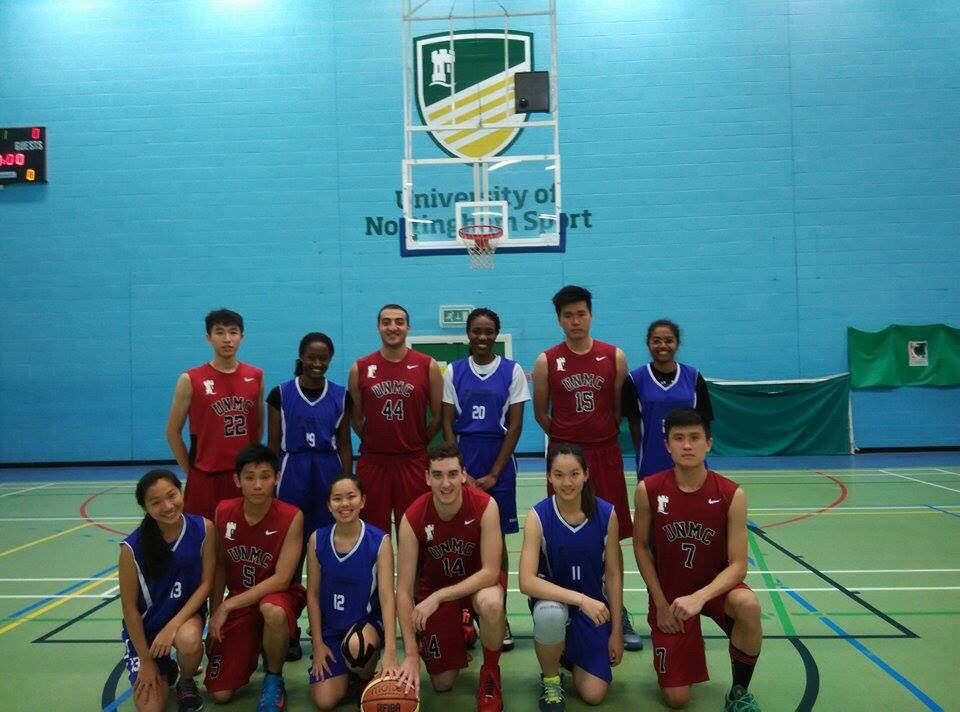 UNMC's Men and Women's Basketball Teams
First row, extreme left: Ong Jie Sze; fourth from left: Germán Olivares Merlos
Unlike the UNUK and UNNC teams, who had their coaches present during the Tri Campus Games, the UNMC sports teams had been training, for the most part, without the benefit of supervision and guidance from professional coaches. Jie Sze attributed the unexpected victory to the athletes' dedication, the help and support of good team managers (Mr Mahes and Ms Intan) and an exceptionally 'unique' team spirit. She described the Malaysian contingent as being very vocal ('terribly loud') in their support for each other; UNMC matches were typically accompanied with an abundance of enthusiastic cheering (e.g. 'Malaysia Boleh!'), clapping and drumming. She was also 'extremely grateful' for the emotional support provided by the team managers throughout the entire period.
Ms. Intan credited the victory to "everyone: players, coaches and management, which lead to glory. But most of it was the players themselves. Starting from January 2015, I saw a lot of potential, spirit, hard work, etc. So when they applied every single positive attitude at UNUK, everything was easier. This year we had home and away matches, which was very tiring. But we kept reminding them that this is not about winning, this is about performance, teamwork and friendship through sports."
When they stay positive, they can win. That's the most important.
All eyes on the speedy rubber ball
PURSUING EXCELLENCE
When asked how UNMC could further improve in terms of sporting excellence (especially since it will be hosting the 2016 Tri Campus Games), Jie Sze noted the need for more funding and institutional support:
Increasing the sports grants. It is sad when the talent of an athlete is hindered by the lack of funding.
"UNMC provides good services and facilities for sports. However, to be truly marvelous, we need to emulate UNUK where the equipment and facilities are kept at tip top conditions."
Ms. Intan seconded the need for better coaching and infrastructure: "UNMC had a lot of potential talent but if we want to develop their performance, we need supports from other sources, especially on the budget. To achieve excellence in sports, we can't depends on talent 100% all the time. They need proper facilities, knowledge in sports science, proper training on physical development, nutrition, etc."
By Augustine Chay
Photos courtesy of Ms. Intan Liyana Idris and Germán Olivares Merlos