IGNITE Week is an annual event that aims to engage the UNMC student community. This year's IGNITE Week will take place from 22nd – 26th February, and will feature the following activities
1. UNMC Debating Championship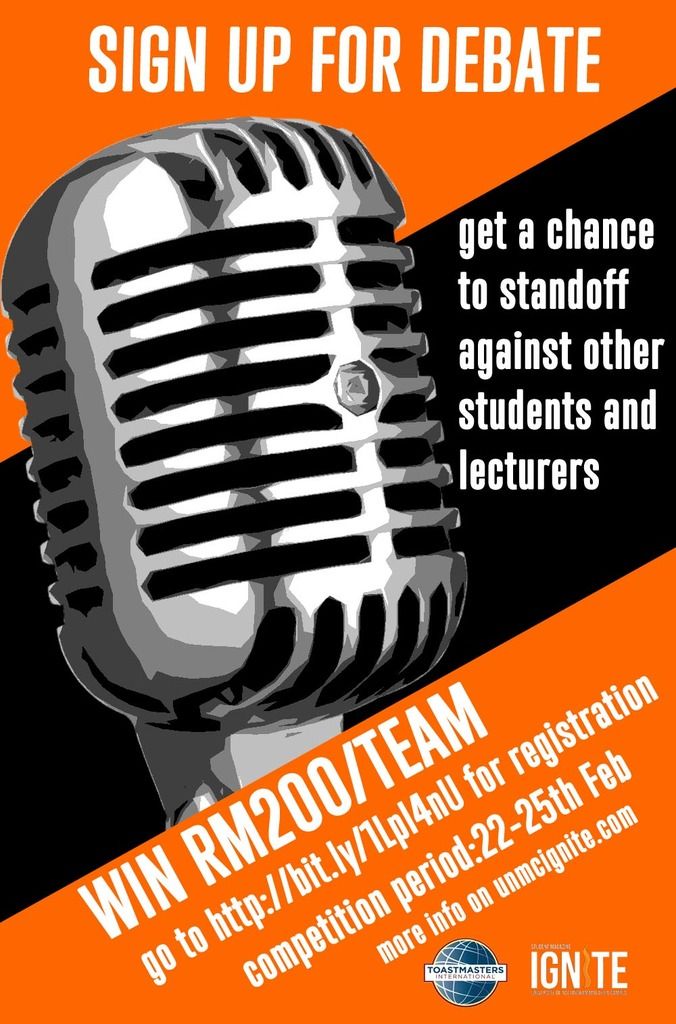 In collaboration with the UNMC Toastmasters Club, IGNITE will be organizing an intra-varsity Debating Championship.
The aim is to provide a platform for UNMC students to gain debating experience, and to instill the values of critical thinking, good speaking skills and logical reasoning. Fun, exciting and thought-provoking issues will be debated on!
Event Timing: 22-25 February 2016
Schedule:
Monday, 22 Feb, 5-8 pm, EA 28: Preliminary Rounds
Tuesday, 23 Feb, 5-8 pm, EA 28: Quarterfinals and Semifinals
The winning student team will then proceed to debate a lecturer team on Thursday, 25 Feb, 6.30-8.30 pm, EA 23.
The winning student team will also win a modest cash prize of RM 200! All participants will receive a certificate of participation and a free entry to one UNMC Toastmasters meeting.
Interested students can sign up
here.
2. IGNITE Instagram Competition
Think you've got the photography skills to excel in the uber-competitive Instagram cyber-scene?
Share your best CNY or V-Day moments (#unmcignite, #igniteweek2016) and follow unmcignite on Instagram!
The best photo will receive a RM 100 cash prize!
Competition closes on 26 February 2016.
3. IGNITE Movie Night
Ever wanted to get inside the mind of an acclaimed author? In Capote (2005), the late Academy-Award winning actor Phillip Seymour Hoffman presents a groundbreaking performance as Truman Capote. This biographical film follows the events that transpired during the writing of Capote's groundbreaking non-fiction book In Cold Blood (1966).
Hoffman's Capote is the most magnificently unsympathetic figure.
Philip Seymour Hoffman's riveting central performance guides a well-constructed retelling of the most sensational and significant period in author Truman Capote's life.
Critical Consensus, Rotten Tomatoes.com
"Capote" unflinchingly faces the moral abyss at the heart of the journalistic enterprise.
Event details:
Date & Time: 26 Feb 2016, 5.30 pm – 7.30 pm
Venue: F3A03