SWIMMING POOL, SPORTS COMPLEX: the day kicked off with the Nation Cup's Swimming Competition, with a number of swimming enthusiasts engaging in a series of intense races across the 25 m-long pool.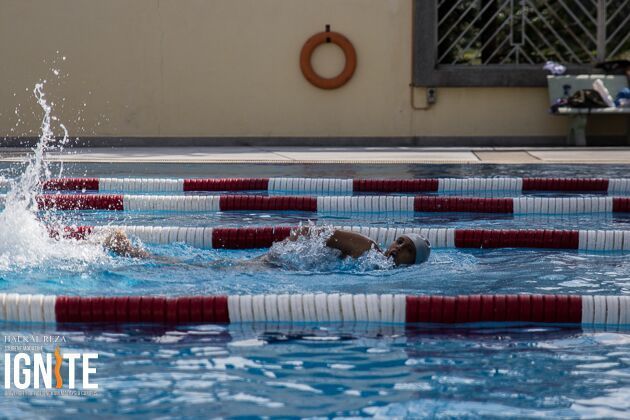 The competition began with the female 50 m freestyle race. Sandra Mwaura of Kenya took the top spot at 42.19 seconds, followed by  Zahrah Fakim of Mauritius after just one and a half seconds, finishing at 43.88 seconds.
The female 50 m breaststroke came right after, with  Zahrah Fakim of Mauritius emerging at the first place at 58.31 seconds, followed by Tormalli Francis of Sri Lanka at 61.03 seconds.
The female freestyle relay (4 x 25 m), a team-based race with each team comprising of four swimmers, was won by Sri Lanka, (94.25 seconds), with Mauritius coming in close at 97 seconds.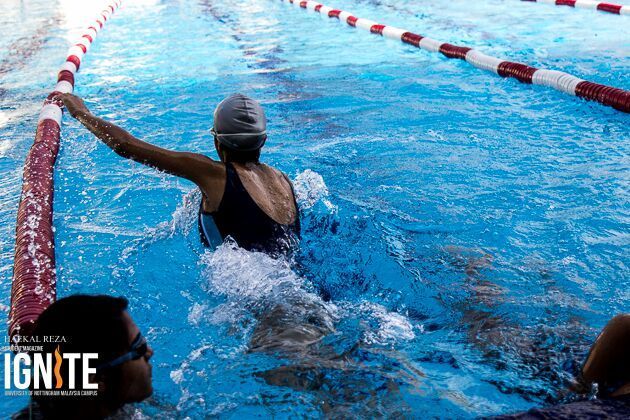 The female category was followed by the male 50 m freestyle. The audience witnessed Foo Chuan Fong of Malaysia swimming past everyone else with great ease and agility, finishing first with an amazing time of 29.44 seconds, almost 5 seconds ahead of Seifedin Wael of Egypt, who finished second at 34.38 seconds.
Foo Chuan Fong took all the glory again in the male 50 m backstroke, with another amazing time of 37.5 seconds, while Lee Hong Yang of Malaysia came in second  at 41.94 seconds.
Next on the list was the male 50 m breaststroke, where Xavier Wong Shi Heng of Malaysia won first place at 36.13 seconds, a huge margin of almost 6 seconds ahead of the second place winner, Chiang Jia Kerk of Malaysia, who finished at 41.94 seconds.
This was followed by the male 50 m butterfly, where Foo Chuan Fong secured his third gold medal with a timing of 32.22 seconds, a slight lead ahead of Xavier Wong Shi Heng, who finished second at 32.81 seconds.
The penultimate race of the competition was the male freestyle relay, which Egypt won with a total timing of 61.88 seconds, while Sri Lanka emerged as the first runner-up with a total timing of 74.46 seconds.
Finally, the male medley relay race: a 4 x 25 m race with each swimmer on the team having to utilise a different stroke for every lap across the pool, starting with backstroke, breaststroke, freestyle and butterfly. Egypt finished first at 70.75 seconds, a lead of approximately 18 seconds ahead of Sri Lanka, who managed second place at 88.25 seconds.
By Muhammad Aiman bin Abu Sopian